Some photos of the restoration stages:
Case restoration - gaffer tape was used on multiple occasions in its previous life to secure the broken hinge and so the outer polished leather layer was partially ripped off by some heavy handed and inconsiderate removal. Limonene solvent helped removed the gunky adhesive residue still remaining. Followed by Pellé leather restoration and conditioning liquids and finally some buffing with black boot polish. Not a bad result considering.
Brasso on the lock and press-tabs. New hinges to replace the torn leather hinge.
Inside the case was simply cleaned with a damp soapy cloth and a vacuum. Not much you can do about 100 year old cork grease stains!
Tenon cork replacement.
My disassembly process - keywork and screw & rod diagrams
Nude and dirty flute sticks
Foot joint keys and strap removal - I attempted to remove the tenon sleeve grub screw under the keystrap (the shiny metal circle in between the first screwholes) but it was unslotted so I abandoned my plan to properly remove the dents in the tenon sleeve. So, left with less room to move I simply burnished and buffed out the dents best I could. (Need a photo of the final result.) Surprisingly the silver strap was very flexible not nearly as hardened at the keywork. I decided against removing all of the keywork straps on the body because of the tenuous condition of some of the screw heads - if it ain't broke...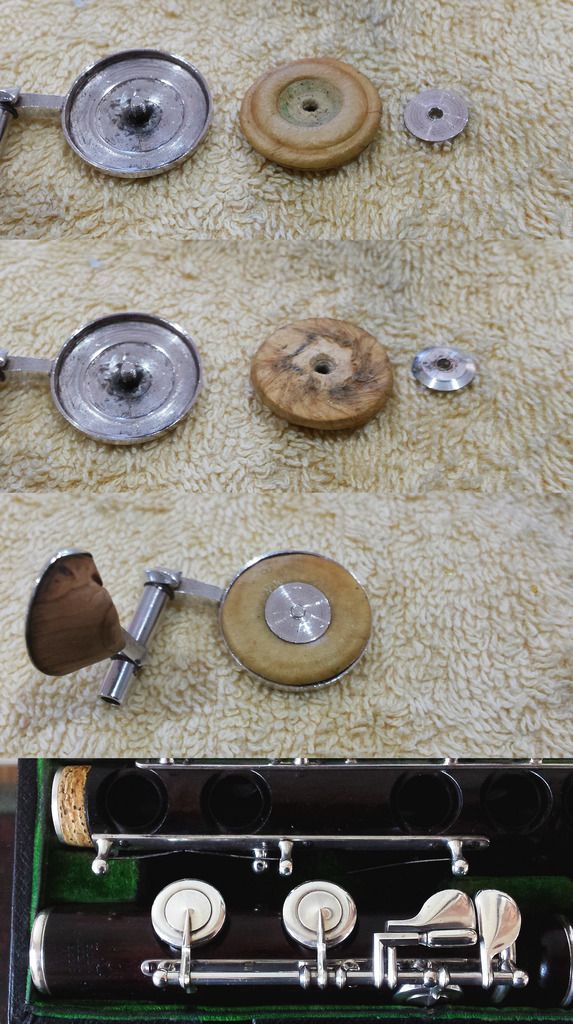 All of the pads were removed, cleaned with naphtha fluid and then soapy water and then ironed with a warm padslick tool. The keycups were cleaned and polished and like the silver washers. This D-sharp pad is a good illustration of most of the pads on the flute - unshellacked/glued and with deep-set impressions.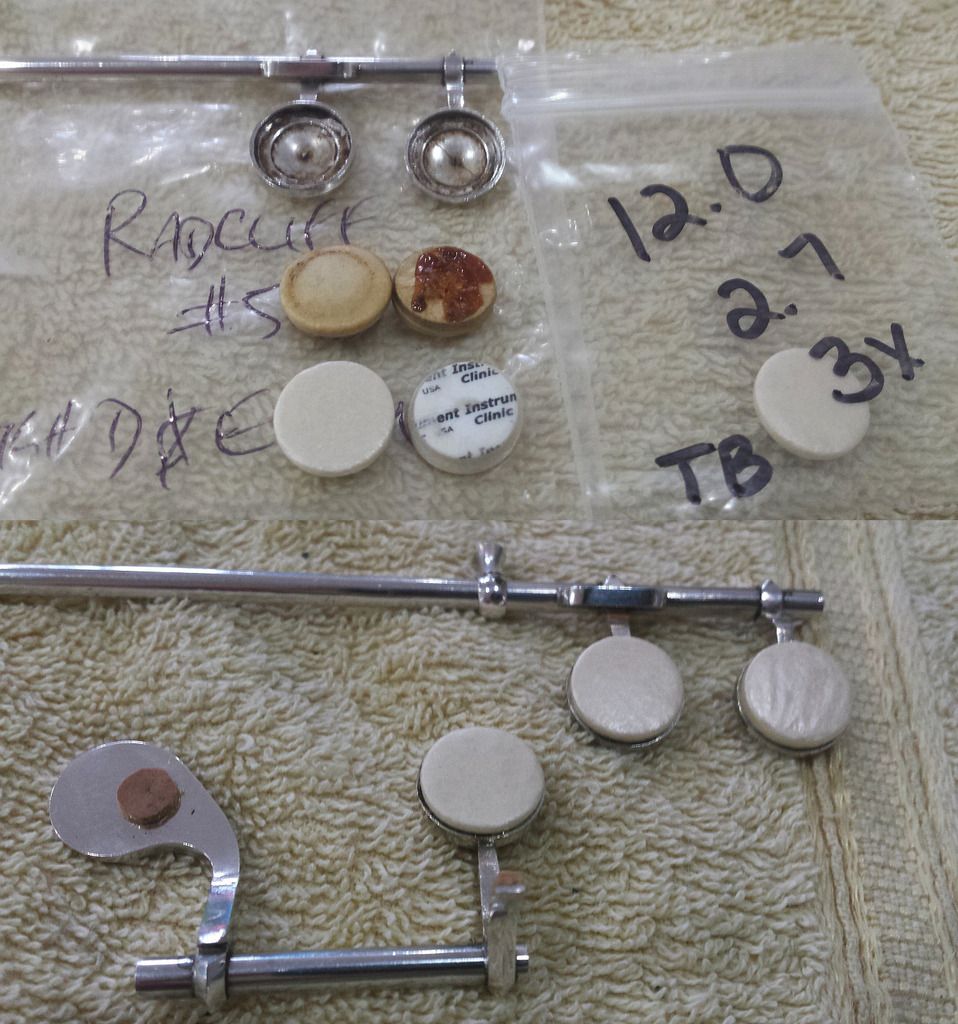 I replaced the missing Cnat pad with a clarinet triple-bladder skin pad. I also replaced the trill keys, but then later swapped the old ones back in - reseating and sealing the new ones was very, very difficult. The original Rudall pads have the consistency of something between a marshmallow and an old sax pad, but require the fine grained bladder skin of clarinet pads. Keeping the originals in all but one case was definitely the way to go!
Now onto my next project...
Vaughan
P.S. The whole photographic story can be viewed here:
http://s1088.photobucket.com/user/dubrosa22/Rudall%20Carte%20Co%20Radcliff%20510/story