AaronFW wrote:
For the record, it just occurred to me to run both unidentified bird pictures from Nano through the Merlin App Photo ID. ...They both came up as Ring-Necked Pheasants as the top match.
Well. That was utterly useless. I would ditch that app altogether. I expect it to tell you a cat is a raccoon.
benhall.1 wrote:
How the cluck has this thread managed to turn into one about chickens?
Simple. You pullet that way.
An Draighean wrote:
Monty Python jokes aside, the second one looks like an Araucana or Americana (chicken breeds) rooster.
The second one turned up when I Googled "wild chicken". I know nothing more than that, other than Araucanas seeming more drab by comparison. But I also think the pic was very probably colorized for greater chromatic intensity. It was from a HuffPost article on the mystery of Kauai's feral chickens dropping dead for no apparent reason, but the photo itself had no particular attribution, and while it bears a strong resemblance to said feral roosters if you tone it down, it could have been pulled from stock images for all I know. From the same article, however, this tells quite a story: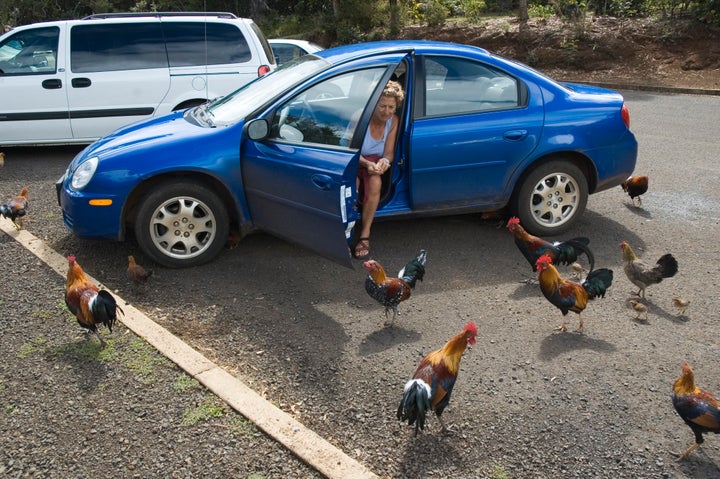 Apparently they're so omnipresent they even walk into restaurants. Quite handy, not to mention considerate of them.
For you trivialists, the first chicken pic I posted here is of a Blue Laced Red Wyandotte hen. For you harder-core trivialists, the Wyandotte is originally an American breed (it would explain the name), but the BLRW is new, bred in the UK and come recently (back, as it were) to the US. Wyandottes are dual-purpose, raised for both their eggs and meat - as well as for show, which requires no stretch of the imagination. I would expect the BLRW was bred for its coloration since it's a given that it already has the meat and eggs thing down.
AaronFW wrote:
I have found the weather reports interesting.
I think you'll understand when I say that I hope to have nothing further to interest you on that front.
Oh, what the hell. So I was out with the snowblower, cleaning up loose ends and going between the tenants' cars, because the snow was knee-high. My spot being on the rightmost end of the row, I didn't clear the passenger side because 1) I don't get in there, and 2) I'd had it. Not long afterward I cleared the car of the great pile of snow all over it, and it was nice, because the above-freezing temps made it all slide off very satisfyingly in big damp clumps. Being lazy (we have already established this), I left the stuff on the roof. I then got in to go do some grocery shopping, and what do I do but get stuck in what I thought was smart to leave be. Well, a little back-and-forth rocking and other automotive aggressions eventually got me free, and there the pile was, now pushed over onto the sidewalk, but I had run out of reasons to care any more. I was free - and hungry - and that was all that mattered. Then as I stopped before entering the street, inertia, or whatever it is, made the humongous slab of snow on the roof slide off over the windshield, down the hood, and onto the pavement. I'm such a bum.
_________________
"Time is the wisest counselor of all." -
Pericles
"I remain not entirely convinced of it." -
Nano