Hello dearest chiffipplers! It's been a long time since I visited this online community, but I am happy to jump back into the fray with this review.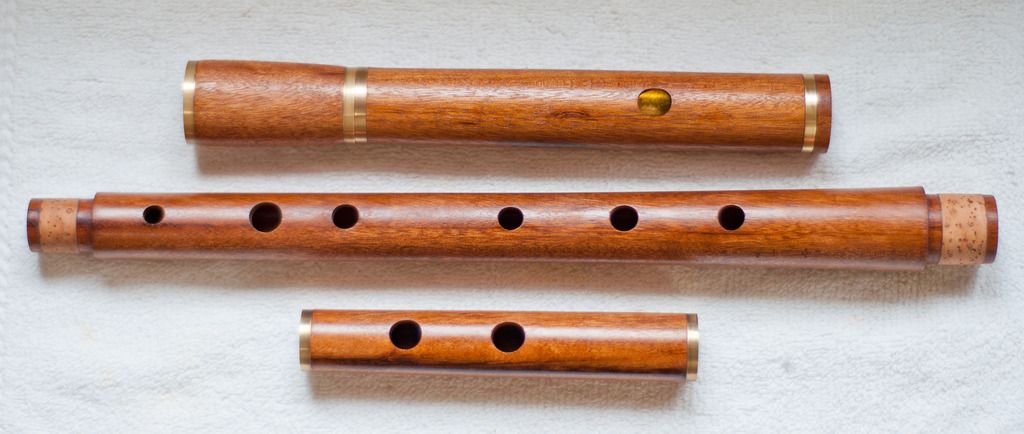 a few weeks ago in the middle of a snowstorm, this lovely flute arrived from Budapest, Hungray. It is made by
Barna Gabos
, maker of fine bamboo, and now wooden irish-style flutes:
Marroncito Flutes
His website:
Marroncito Flutes
A couple years ago I got in touch with Barna because i was looking for a flute that would allow me to play more seamlessly between Indian and Celtic styles (I perform regularly both on bansuri and irish flute). I had heard of his bamboo flutes and was curious if he would be willing to work with me to try and create something that met my needs. As it turns out he was very enthusiastic about the idea. We met over Skype several times, and he eventually ended up sending me two flutes, both of which are excellent, and will be featured in a separate review.

So Anyway, back to the Wooden Flute! Barna more recently has begun making wooden flutes from a variety of timbers, and asked if he could send me one to try out and post about it on C&F. I enthusiastically agreed. I've been playing it for about 4 weeks now, and it even got a bit of air time at the St. Paddy's day festival this past weekend.
So, here's my thoughts on it so far:
WOOD
First of all, it's made of Brazillian Tigerwood. I'd never even heard of tigerwood before, let alone a tigerwood flute. The biggest thing I notice is it's lightweight. Even with it's fully lined headjoint, it is substantially lighter than my
Windward
keyless, which has an unlined head and is made of blackwood/mopane/african olive (the Jester!). The grain of the tigerwood also seems to be a bit more coarse than the other woods. Perhaps you can see that in this photo. Since I play practically weightless bansuris alot, I really like the lighter weight, noticing less fatigue in my left arm when playing longer (that's the arm that always complains!)
Other than that, since I haven't tried any of Barna's flutes in other woods, I can't really say how tigerwood compares in sound/response.
SOUND
-volume is very good, and it's easy to give it a nice "bark" (that reedy irish tone) and play loud without too much air. You can really crank on it and it remains stable.
-the flute feels very lively and agile, ornaments are crisp, plays easily into the 3rd octave.
-the overall tone of the flute seems to favor high and low harmonics, and less mid tones, which translates to a more edgy, breathy, aggressive, and less focused sound than say, my Windward. So if you're really going for that Irish tone that cuts through the session, I think you'd like this flute. It certainly can play softly, it just seems to prefer being pushed harder. For music with more dynamics and lyricism, I would probably choose the fuller midrange and wider tonal palate of the Windward. For a session, probably the Tiger. Rarrrr!
-An important note on sound: Barna let me know last week that he actually makes two headjoints for his flutes: one fully lined and the other half lined. He is sending me the half lined one, so I will update when I receive it. Perhaps that headjoint will help bring out this flutes gentler side
Here's a link to a few audio clips comparing the Jester and the Tiger sound:
Audio Clips
(It's on dropbox, so I think you have to download the files to hear them. Anyone know a way to have files play directly from a forum post??)
TUNING
-Overall the flute tuning is spot on, and the customary cross fingerings work well.
-When checking it with a tuner, I noticed the low G coming out slightly flatter (maybe -10cents) than neighboring notes. I actually had to crank on it harder than I'm used to to get it perfectly in tune. I spoke with Barna about this, and he said he's done this deliberately because so many irish players love to honk out that G at the turnarounds or the end of a tune, which often makes the note go sharp. I can see the reasoning behind this, and it's simply a small adjustment I have to make when switching between other flutes. And in all likelihood, I may not have noticed it had I not checked it with a tuner.
WORKMANSHIP
-all the metal work on this flute is brass, but Barna also uses silver upon request. All the edges and finishing and what not seems top notch. here's some pics: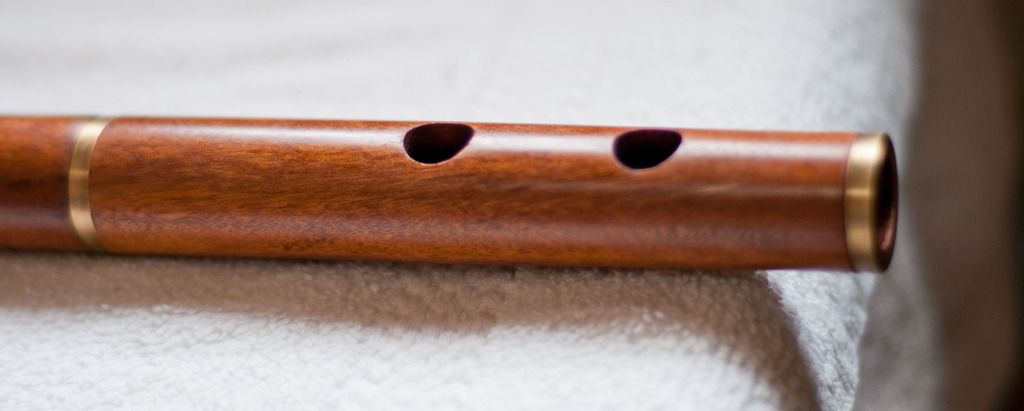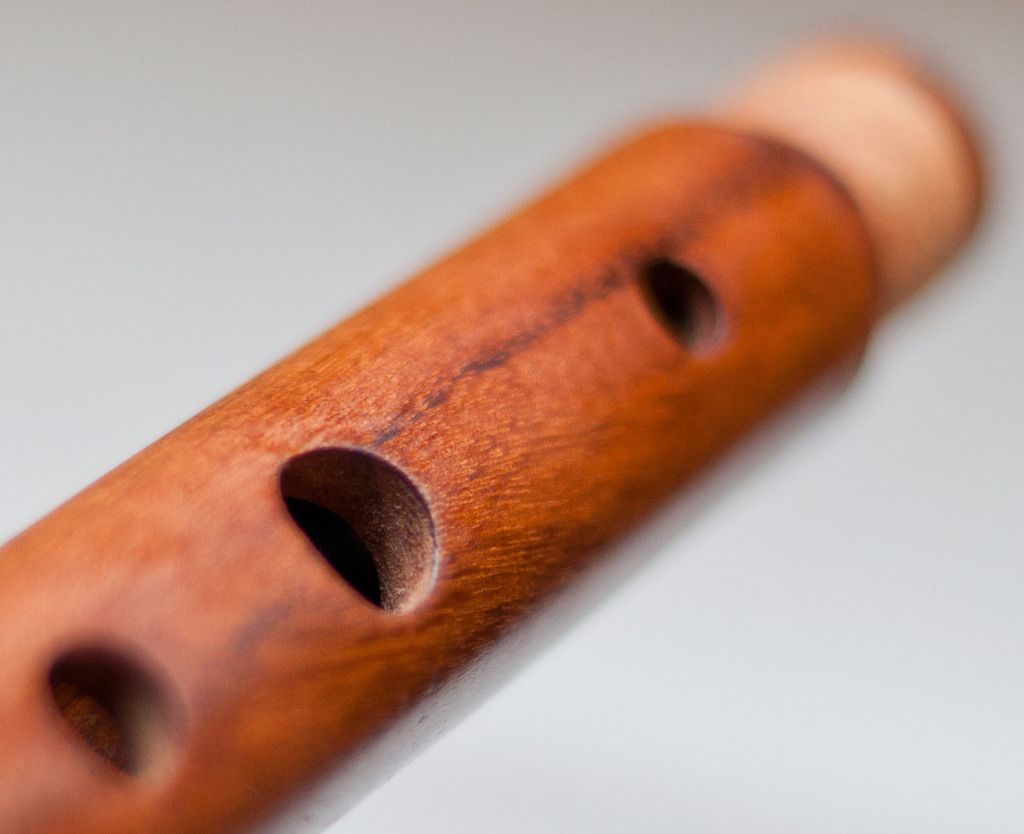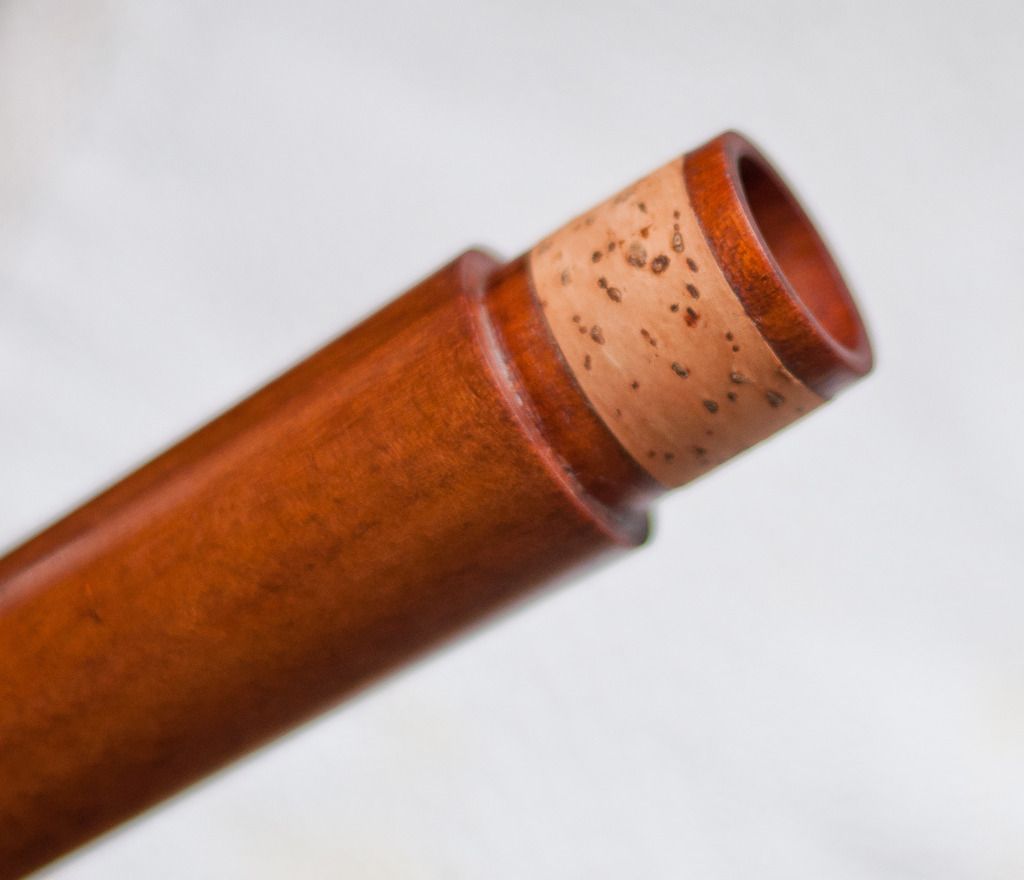 One cool and innovative thing that he's done is put brass on top of the tuning cork. I think this is great because if you need to adjust it, there's no risk breaking the cork! Attempted picture: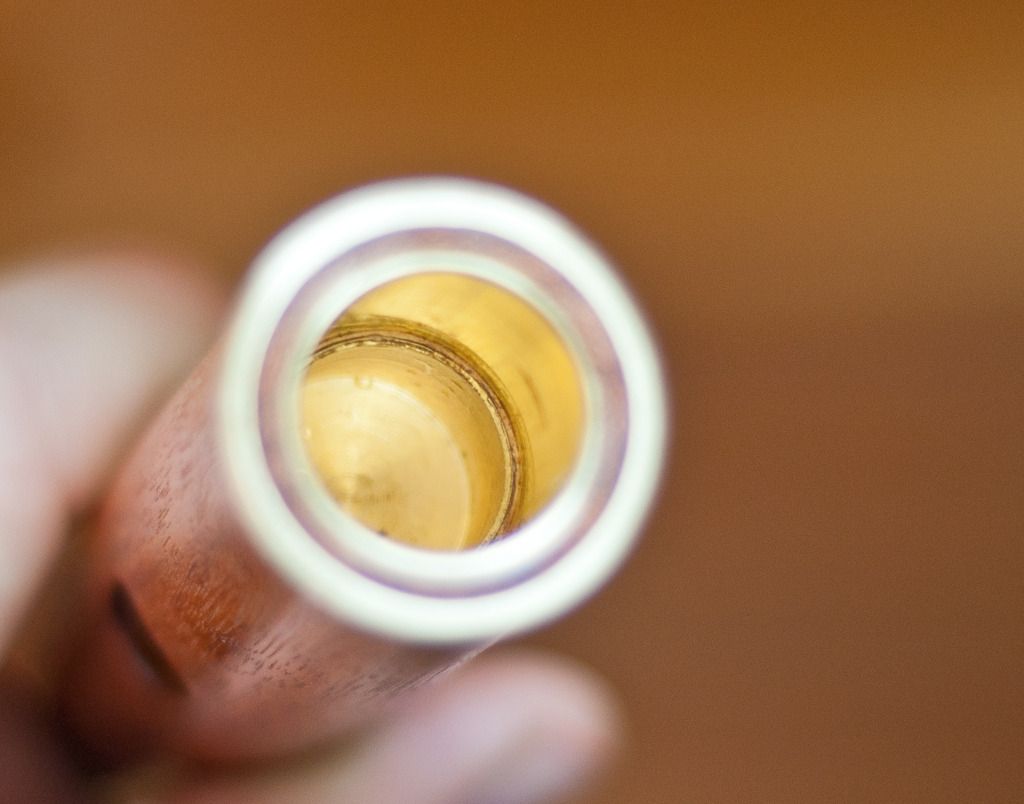 -the only criticism I have in this category is the tuning slide has a bit of stiction to it when rotating, particularly when pushed in all the way, making micro adjustments of the blow hole angle more difficult. Barna suggested using a bit of steel wool on the slide to smooth it out, but i haven't had the chance to try that yet.
CONCLUSION
Overall I have to say I really enjoy this flute. It's lightweight, lively, loud, and easy blowing. For anyone looking for a flute of this nature I would definitely consider Marroncito Flutes. Prices are very reasonable, and Barna is excellent to work with if you have specific needs and interests. Thanks so much to Barna for sending the Tiger my way. I hope this post generates much interest and exposure for your excellent work!
Any questions or comments welcome. Also, if anyone is in or passing through NC and wants to give the Tiger a try, please let me know.
Sincerely,
Daniel Chambo