Peter Duggan wrote:
Yep, mine were made from towelling after my partial mock-ups with safety pins and old towels (all I had to hand!) suggested that the material had some merits for the job, but edged across the pocket tops and round the outsides with acrylic tape. While we'd originally planned to sew the diagonals (or separate 'ends' like your bag shown above) to suit complete whistle 'sets', further testing led us to leave the larger bag at three discrete lengths (several pockets each at low D, low F and A length) and the smaller one (for smaller whistles) at a single length for increased versatility (the point being that you're not 'losing' a slightly shorter whistle in a slightly overlength pocket, but can't put a longer one in a shorter pocket!). And we've left off straps or ties for the time being, with separate (non-fixed) straps currently suiting me fine.

Will try to get some photos and measurements up soon.
OK, here we go...
The plans are as originally drawn (all measurements in millimetres), with black dimensions still to scale but amendments as actually made up in red (we had to make them slightly narrower overall because the towels we bought off eBay weren't quite as advertised!). The 55mm channels are for low D, Eb and E whistles, with 50mm for Fs and Gs and 45mm for anything smaller. You need to make the top flap twice the length of whistle you want sticking out (2 x 60mm to the dotted lines in this case) + whatever depth of overlap you want the flap to have (we'd planned for 100mm, but made the large roll's slightly deeper and the small roll's much deeper so it could take As and Bbs as well as the Cs and smaller I'd originally intended). The wider side channels (80mm and 90mm instead of the 100mm originally planned) were included partly to give extra coverage when rolled, but also allow for instruments (eg flutes, recorders etc.) that don't fit comfortably into the regular 'whistle' channels. The dotted diagonal and 'stepped' horizontal lines are what I'd originally envisaged stitching to take the channels progressively down to Bb length on the large roll and high E length (via D and Eb) on the small one, but practical testing led us to leave the large roll at 4 full-length (520mm) channels, 4 x 430mm for Fs and Gs and 4 x 340mm for As and Bbs, with the smaller one left full-length at 280mm throughout (and, no, that's not my whole whistle collection you see in the photos!).
Don't know how long the towelling will last, but it's easy to work with, kind to whistles, protective enough to stop them bashing each other up and can always go through the washing machine if needed (NB I put the towels through twice to allow for shrinkage before we started measuring and cutting). Also can't say I'd have bought black towels for the bathroom (no goths here!), but liked them for this job and my friend and colleague Jan Hamilton did a great job of making them up for me (thanks, Jan!)...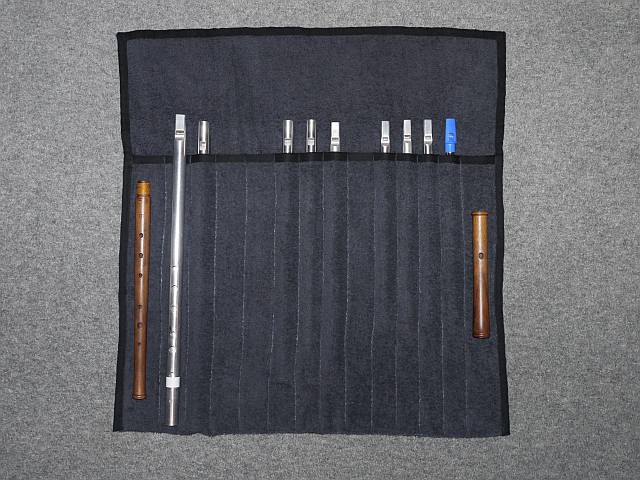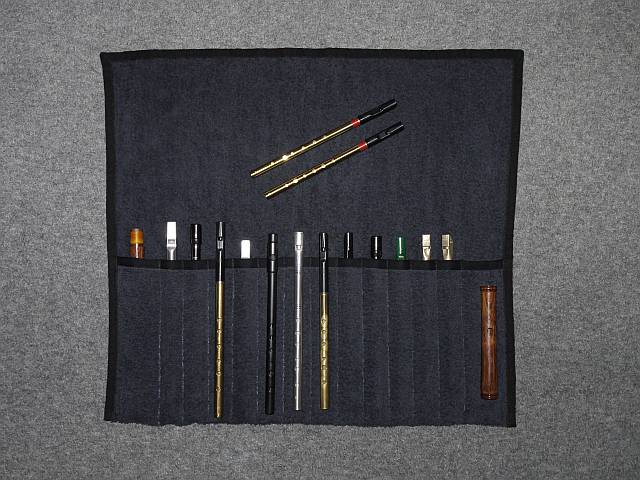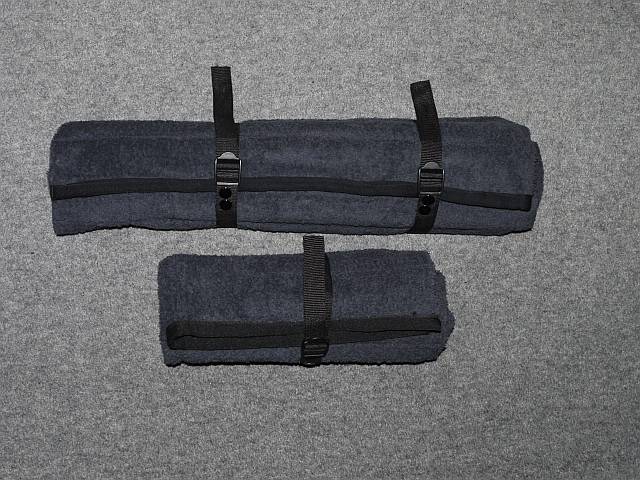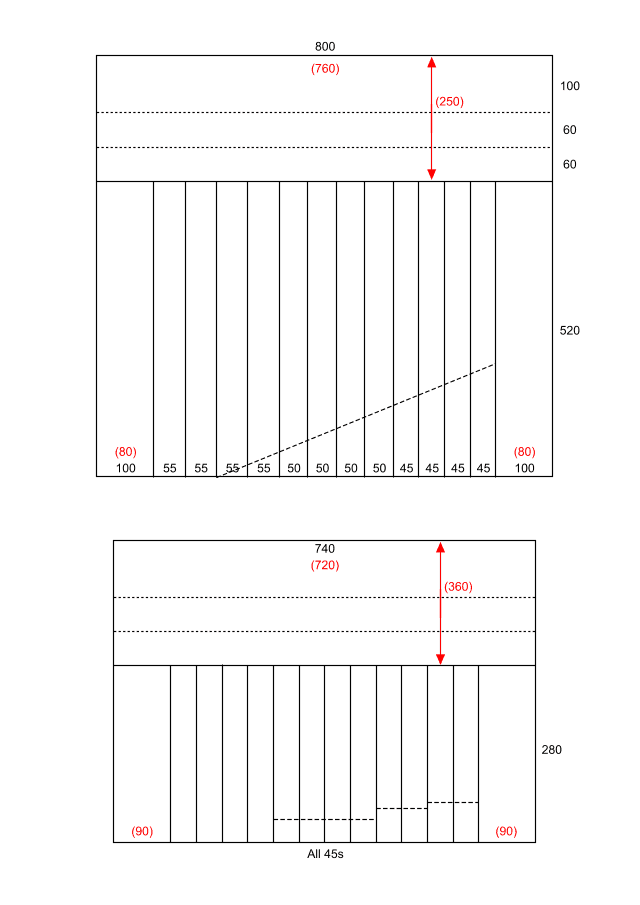 _________________
And we in dreams behold the Hebrides.
Why I teach... and where
Master of nine?