First question:
It's dance music, of course, and the dance never stops until it's done.
It is in this vein that I have taken advice (heard at Brother Steves', and elsewhere) not to breathe at the end of a part, before the repeat. The point is to keep the pulse going, I gather. So, I would
like
to play like this:
(T:Ships Are Sailing (snipet); K:E Dorian)
... g2bg f2af | edef gfed |] Be
z
d BcdB | ADED ADED |...
The "z" is a rest and the place I think I should breathe on the repeat, without disrupting the pulse of the end of the second part.
Well, I don't really manage. There are tunes that lend themselves so well to taking a breath at the end of the part. Look at this transcription of The Knotted Cord (aka Junior Crehan's Favorite):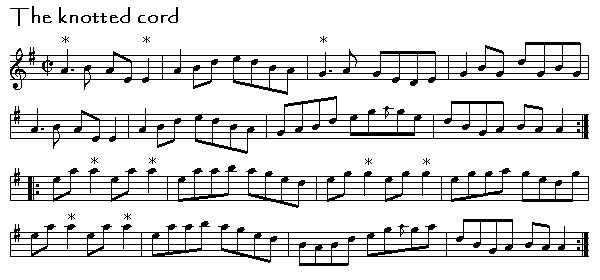 (Thanks to Brother Steve for letting me use his transcription. It is part of his
tin-whistle pages
. Look for Advanced Ornamentation: Rolls - the practice page. There you will also find the
sound clip
from which I learned the tune.)
Steve playes off-beat rolls on A at the end of both parts. But I find myself taking a breath there, and starting the repeat/other part with a new attack. (Maybe I am facing repressed classical-music traumata from my childhood?)
How heinous a sin am I committing? (Concertina-players, fiddlers & pipers need not respond to this one.)
<hr>
Second question:
I like making up my own sets of tunes. It's fun and permits me not to encumber my mind with what is commonly played together or not.
Right now, I really like playing the Knotted Cord (see above) into Sally Garden (and sometimes followed by Green Groves of Erin). So I have been thinking about the transition from one tune into the other. My question is: How much attention should I call to that transition?
First off, there is a key change, so one would hope the transition isn't entirely lost. The easiest thing is to just play:
... BABd egga | dBGA BA~A2 |] G2DG B2GB | dBeB dBAB ....
But I thought a bit of a statement would be nice, and so now I play:
... BABd egga | dBGA BA~A2 |]
>g4 B2gB
| dBeB dBAB ....
It seems (to my untutored) ears especially nice when the guitarist at the session accents that first beat of Sally Gardens with a whopping G-major chord (they can usually manage a G-major chord).
How do you tackle these tune transitions, with extra emphasis or without?