I was in Lissycasey last week, walked up to the cascades. I had the car parked outside the cemetary and had a thought for Dympna who is inside there. Driving back I was thinking about that little nest of concertinaplayers that existed there and how I hadn't seen Gerald for a while. During the course of the year I'd run into him in Ennis, out
getting the messages
.
He was pretty much a countryman of his generation with a great hunger to play music but a shyness at the same time. And he'd pounce on anybody who could sit in with him and give him an excuse to start up. I have been in that position a few times, he'd sweep you up and decide you were going somewhere for a few tunes and he wouldn't let you get away. The Limerick Lasses would be the warm up tune, often anyway.
There was one night I remember well, a Christmas eve in Gleeson's. Gerald arrived with his friend, fiddle player 'Buddy' O'Connell from Knockalough, we played music most of the night, sets were danced, McGivney was there, PJ and Peadar Crotty, Jackie Daly and the usual suspects. Kitty was just starting to feel her way back into playing and late at night she took out the concertina, Gerald coaxed a bunch of tunes out of her and carried her along. She got a great boost out of it and it was lovely music too.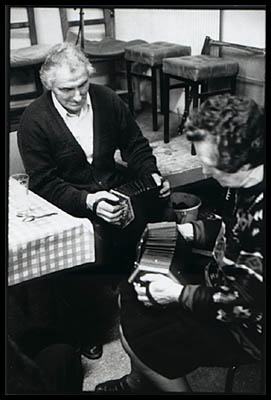 He was an all Ireland champion too, in 1975, before his neighbour started the great concertina boom that swept away the old styles.