Thanks, irishpiper. Are you in Ireland? This father Quigley sent his chanters to a relation in Sligo, IIRC; Charles Roberts worked on the sticks and wrote it about for the NPU article I keep referring to. One of them had the flute keys on the front.
In actuality those keys were likely made for something else - clarinet? The pads on Boehm flutes are pretty monstrous sized. Or maybe they're piccolo keywork. Doubt
Patsy
did all that work by himself, I've always assumed he raided the Haynes factory in Boston, or ordered what he wanted from Frerres or whoever was supplying band instruments back then.
Some old flutes mixed block and pin mounting:

From Rick Wilson's page on
"Old System" and Pratten flutes.
These were simple system flutes but with keywork to seal the huge holes; it would've been impossible to cover them up otherwise. This way players familiar with the old type of fingering could also have the loud tone and accurate intonation of the Boehm and other systems, of which there were a bevy.
Here's a picture of my D Noblet piccolo: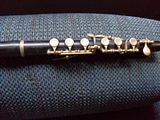 Again, this has simple system fingering, but keywork to cover up the holes - pretty useless keywork, since the holes are no larger than is usually found on these old piccs.
Note how the pads for each individual key are separate from one another - add a longer axle and you can add more pads as need be, for instance for the 4 holes you cover on the bottom hand of the pipes chanter. I'd imagine
Brown
used something similar. Or just standard flute keywork would do the job. With these keys the tubes the keys are fitted to slide over a rod, which is threaded at the end and screws into the post at the top of the key stack; thus when you unscrew it the various keys slide off the axles. Hope that makes sense.
Fitting keys like these to Irish pipes, you'd have to compensate for the lack of semitone keys on the axles - without them you have gaps in the sections of rod. Perhaps
Brown
had to solder new tubes to the keys.