wormil wrote:
Do you drill all six holes (small) first then go back and size them or do one at a time?
The conventional wisdom suggests that you first do as you have done and get the sounding length right - make the pipe long and whittle it down until you get your fundamental note. Then start drilling the bottom hole a tad undersize and bring it up to pitch by enlarging it at the top. Then do the same for the next higher hole until you are satisfied and so on. Once you have a good design and can replicate it consistently you can drill them all at one go with no problem.
wormil wrote:
Have you tried filing down the top of the windway to reduce it's height?
Yes, I did try that back in the early days to get control of the breathiness. And you should give that a try too. See how you like it. I also used a heat gun to form the head in a manner similar to what Tony Dixon does. Looked kind of like an ivory Overton when finished. Work outside if you try that. Another method is to add material inside the mouthpiece collar along the top of the windway to reduce the height - tape, strips of plastic, etc. I quickly came to the conclusion that another method was needed to really control the height of the windway so I got a lathe. These are some of my pvc/cpvc whistles from those days.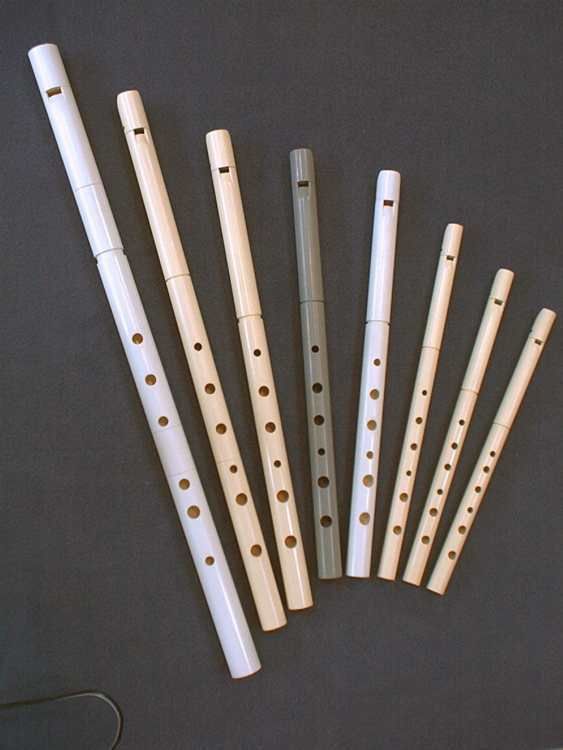 I can easily control the windwayy height by splitting the wall thickness with the outer mouthpiece collar in any ratio I'd like - hard-blowers, free-blowers, and the Goldielocks model.
wormil wrote:
I bought a pipe connector so I can try and make one really good mouthpiece and switch it out between pipes.
That's a good strategy. Placement of the joint along the pipe can become a tuning issue because of the thickness of the pipe wall. It creates a point where the bore expands. So be mindful of that. If you examine a few nice whistles you will see that they either use a very thin tuning slide material like brass or they thin the pipe tubing down (two of my own examples are shown below)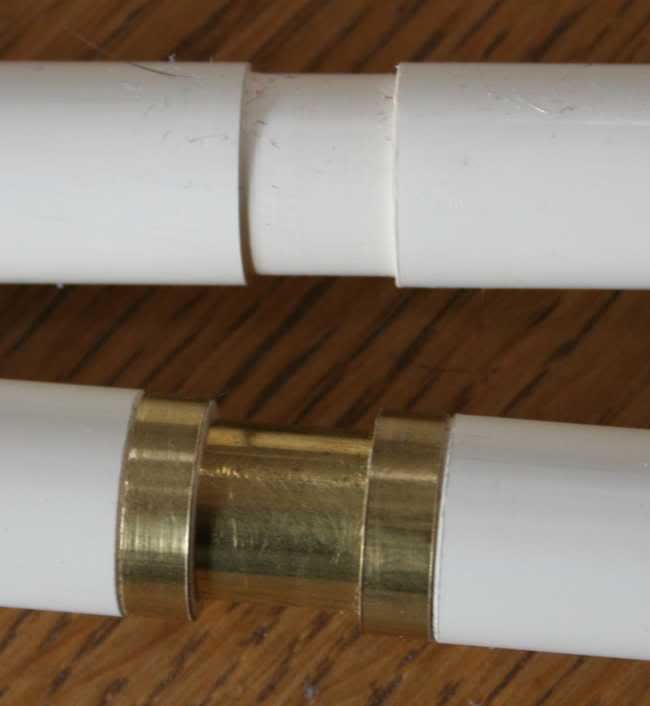 and they generally place the joint where it will have least effect on the tuning - flow noddes versus presure nodes within the pipe. Look at pictures of some whistles and you'll get a sense of where along the pipe to place the joint - it's a proportional thing after all. And you can use 1/2" copper pipe connectors for the joint sleeve if you want to add a bit of color to the whistle - works at the mouthpiece too.
Concerning the thinner walled pipe - if you have the inclination to do so, then try every type of pipe you come by. You never know what you will like best. Guido Gonzato does use a thin walled pipe and he gets nice results. I have a couple of his whistles here and they play very well.
And have fun. I'd issue my usual whistle making challenge "betcha' can't make just one!" but you already gone past that.
Feadoggie