For Sale (Los Angeles): Completely custom hand made by the late, great Ewen McDougall #30 Boehm solid silver flute (head, body, keys) with stainless steel mechanism. This flute has a low B footjoint, inline mechanism w/half-offset G keys for a comfortable reach, A=440. One owner (me).
$7,000 (reduced from $7950) or make offer. Will also consider full or partial trade for the following:
High-end 6-string acoustic guitar;
Modern maker 8-key Irish flute;
Excellent condition Rudall Rose 8-key;
Excellent condition Rudall Carte Boehm (closed G#, silver keys).
The flute is a solid silver professional, conservatory model in excellent, like new condition, and comparable to top-end Powell & Brannen Brothers flutes costing thousands more. Flute has been reviewed by Flutacious (who had it on consignment last year) and the flute is in as new condition & requires no service.
Ewen McDougall had 50 years in flutemaking, having apprenticed to Rudall Carte in 1950. He was one of the co-founders of the Flutemakers Guild of London, known for both silver & wood-bodied Boehm flutes.
The Flutemakers Guild (FMG) in London was started in 1961, following the breakaway of seven craftsman, including Harry Seeley, Angus Harris, and the foreman Ewen McDougall from the famous flute makers Rudall Carte & Co. These craftsman specialised initially in handmade wooden then silver flutes and have since individually become some of the most respected British flute makers, their work extremely sought-after.
Through the auspices of the Lord Mayor of London, who had been a flautist in his youth, the makers approached Charles Stanley Padgett, Prime Warden of the Goldsmiths' Company and owner of a gold and silversmithing company. Padgett supplied finance and a workshop in his premises at Broadwick Street, Soho, and after 1974 in Shacklewell Road, where the flutemakers had the use of lathes and equipment already owned by the company. All aspects of flute manufacturing, from the acquisition of silver tubing to engraving of the highest calibre, could be done on the premises. Now the makers enjoyed the freedom of producing flutes as they liked under the foremanship of Ewen McDougall, who was responsible for the first of their flutes but then concentrated on headjoints.
Ewen McDougall made flutes under his own name from 1983 until his death November 2, 1999. This flute, #30 (of 34, to my knowledge), was the last one he personally sold & finalized for shipment to me. It arrived after his death. The few flutes & headjoints remaining in his inventory were then sold by his widow, or through dealer connections.
Ewen's flutes feature:
Soldered saddles.
Forged Keywork from 4mm and 5mm square silver.
Castings are not used anywhere in the construction. Forgings give greater strength and a fine finish.
Hard drawn tube.
Hand-stamped embouchure plate & key cups from his own tooling.
Stainless steel rods, screws and springs.
Left hand, right hand and trill rods mounted on conical point screws.
Burnished polish finish.
Double skin covered felt pads.
Leather covered case with velvet lining.
Such a musical instrument will give delight and satisfaction for a lifetime.
Ewen had always been interested in presswork and made a set of tools to produce chimneys for heads, & for making the open hole cup. These were hand-stamped out of a silver blank disc, hole and all!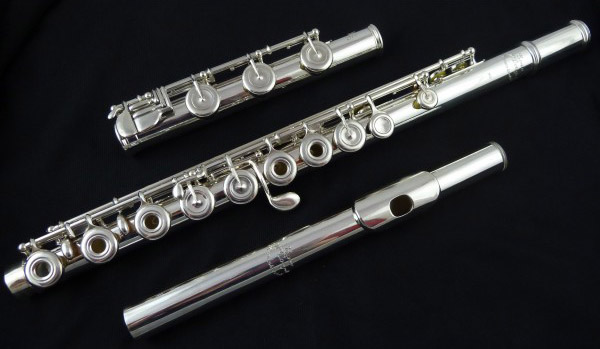 ADDITIONAL PHOTOS
:
BARREL -
http://worldtrad.org/PO%20McDougall%203 ... 00x883.jpg
HEADJOINT -
http://worldtrad.org/PO%20McDougall%203 ... 00x883.jpg
MAIN BODY -
http://worldtrad.org/PO%20McDougall%203 ... 00x883.jpg
FOOTJOINT -
http://worldtrad.org/PO%20McDougall%203 ... 00x883.jpg
Kevin Krell
_________________
International Traditional Music Society, Inc.
A non-profit 501c3 charity/educational public benefit corporation
Wooden Flute Obsession CDs (3 volumes, 6 discs, 7 hours, 120 players/tracks)
http://www.worldtrad.org