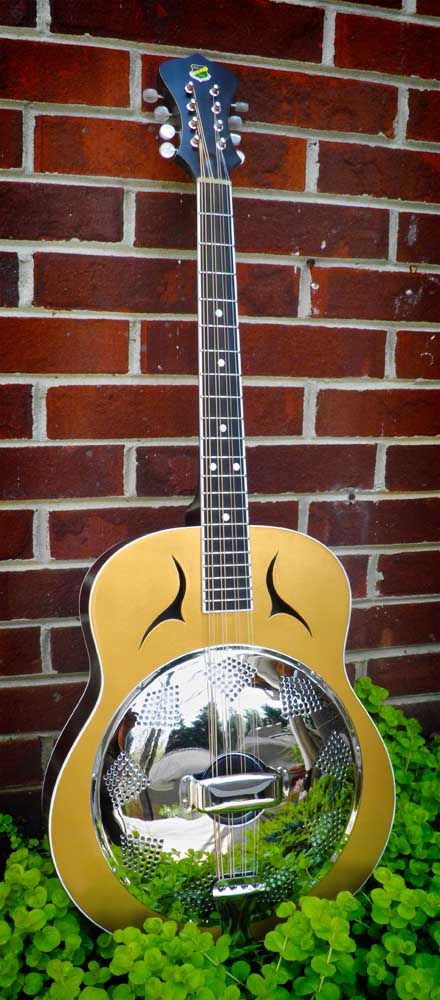 Hi All,
This is one of my hand-made, wood body resonator instruments. Is it a guitar-bodied octave mandolin? An eight-string tenor guitar? You decide. The vital stats:
•21-3/4" scale - Much more comfortable than 23" but with a much better G pair than 20.5"
•All sustainable woods - Birch-ply body, maple/select(read "hard")poplar neck, ebony fingerboard
•Gloss nitrocellulose Gold-Top/Tobacco finish
•Continental cone, Schaller F-style tuners
This was originally a custom order, and has become a bit of a shop favorite. I would love to keep it myself, but hey, Christmas is coming.
If you're an OM player who wants to be able to keep up with the accordions and banjos at your local session, this is the instrument for you. With a neck based on the Trinity College OMs and a slightly longer scale, it's both comfortable and powerful, with a rich, full sound and loads of sustain. If you've never played a resonator OM, and I'm almost willing to bet you haven't, then you're in for a treat.
Regular price on this model with these upgrades (gloss nitro, ebony board, binding) would be around $1600. Since this is no longer exactly brand-new, it's yours for $1250 shipped in the CONUS, including a deluxe padded gigbag.
International buyers welcome, please contact me for shipping price info.
Thanks,
Rob