Brief update: I was getting terribly difficult to define results using the Y-splitter and duct tape to seal it, so I took a step back and bought a simple T-connector for PVC, with interesting results. I have also rearranged the pieces so that the branches are at right angles instead with similar results.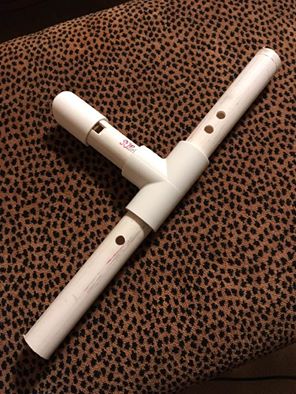 First off, capping either branch produces no sound with the new fipple design, so a forked ocarina seems to be out.
Not sure how this would be affected by a true Y shape, but here's what I found for a t-shaped instrument with a single fipple blowing air into two pipes.
1. I can produce a series of single notes by uncovering holes on either branch. I currently have two holes on one branch and one hole on the other.
2. The pitch seems to be determined by the distance from the airway, like a normal whistle flute. Except the effect is cumulative, too...if you uncover only one of the two centermost holes, then cover that one and play the other, you will get about the same note, as they are roughly the same distance from the fipple. But if you uncover both, the pitch goes up.
3. I can presently achieve four notes.
4. Surprisingly, since I didn't bother with precise placement or tuning, I can now play a brief riff from the musical Ragtime.
5. I can no longer achieve the higher/lower effect depending on how hard I blow, as I was able to when blowing down a straight piece of pipe with this fipple.
6. PVC collects a lot of condensation.