s1m0n wrote:
To be most precise, we'e hoping to understand the difference between an ocarina and a closed-end overtone flute. Where does the distinction lie betwixt this and an ocarina?
I'm only familiar with ocarinas, but if both ends are closed and you only have finger holes in it, then it's a Helmholtz resonator and thus a vessel flute. Vessel flutes typically have a neck (it's the air motion in the neck that produces the resonance as it acts like a mass on a spring), though I don't think they need to have one, if the instrument itself is already a pipe.
There are examples of flute like "ocarinas", like the instruments of MountainsOcarina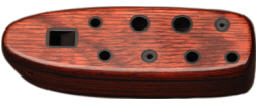 Or the gemshorn:
But the most telling thing is the sound. All ocarinas of the same volume basically sound the same. A tenor gemshorn sounds just like a tenor sweet potato ocarina, simply because vessel flutes produce only one note. Once you know the sound well, you can usually tell if you're listening to an ocarina or not.