[I put a ? in title because it is half solved, design needs understanding and refining to be practical... this is for an original bore shape but short foot Rudall ]
I tried to figure out how it is that 1st octave D is so low vs. 2nd octave on Rudalls . I have some thoughts on that but not certain for now, so will not write them. However, what would need doing to raise 1st D at foot (or lower 2nd) seems clear enough.
Apart from introducing toneholes (basically a long foot) which keeps 2nd close to 1st, or redesigning the bore (cylindrical towards end as an "impedance thing" or whatever and have seen glass flutes try this I think) there are not too many choices maybe. Some short foot Rudall based D flutes must have this solved I think by changing bore profile ?
Obviously there is player embouchure, using more air (whether jet or open) to keep 1st high and so close to 2nd. Then there is lip cover in 2nd (or down angle) to bring down 2nd. This is going to be different tuning for a flute possibly, for example playing base notes medium pitch and 2nd lower compared to base notes high and 2nd medium ). Those are all workable to one degree or another and will be decided by, or decide, the style of playing. So just having found this
http://www.geertlejeune.com/flutes/tuning
I think he is more or less right on the lowered bass being part of playing style of the day...not that other better/"better" arrangements weren't possible.
Anyway, from a physics and sound point of view and without ruining tone and apart from large reshaping of bore , the options of how to keep bass 1st octave notes in pitch at medium playing effort are maybe more limited. Restricting the bore exit ruins tone and has not too much effect on discrepancy unless near unsoundable . Widening the bore will lose tone, but I expect will bring down 2nd more than 1st, probably not enough. Pratten has wider bore angle from top, hence wider foot, so designed that way via whole bore...if they have foot in tune ?
So the only other ways I could think of, both not tested, are :
Pic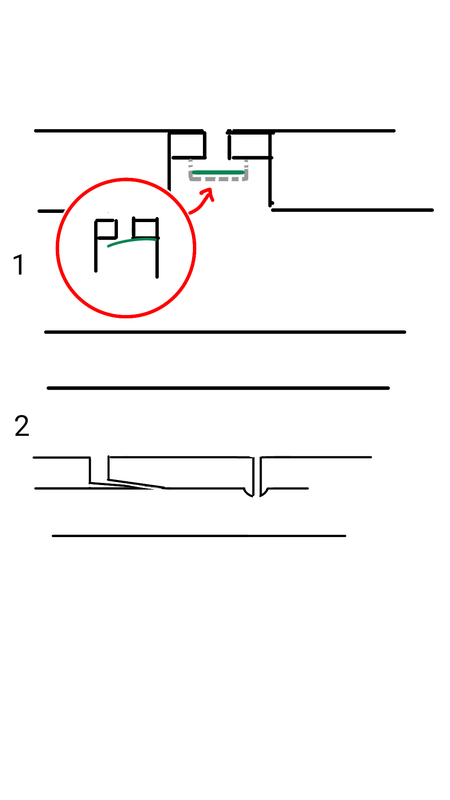 1. Mechanical, and barring having a ridiculously long lever to close bore at foot with first tonehole finger lifted...well the following idea is mechanical all the same, and though in principal I would not choose it for being so , others might find use. Other valve types are possible, of varying sensitivity. Simply, the through hole vents higher for 1st octave, but higher pressure 2nd closes it so giving full bore length for 2nd. In grey is a basket construction, but other forms of valve support exist.
In fact it might be fun designing a flute that had no finger holes only these, and as you increase blowing pressure they open (in this case, not close) one by one up the tube, with second octave not by overblowing but simply further of those higher towards embouchure...and if someone hasn't made a flute controlled by battery powered servo motors yet, well I think one day someone will...vast array of possibilities doing so... but it is not the kind of idea I would take up, or nescessarily what an instrument should be.
OR
2. By allowing some entraination of air higher up the flute. A simple miniature tonehole muffles the tone though and doesn't seem to bring them into line much either. I might try a ring of mini toneholes that allow 1st to reflect at higher pitch when blown low but don't affect when blown stronger, but I think the answer is probably by using some form of entraination, not venting per se. So idea at left is entrainment (as ring around flute) and right is venturi. Higher air speed in 2nd pulls in more air than 1st, increases pressure further down, lowers note compared to 1st.
several hours later cont. .....
BUT
3. The following actually worked , and brought 1st and 2nd octave to right in line and at good pitch, medium blowing steady and nice tone for both and no change embouchure etc.


@ 5mm dia. soft pipe, 20cm long with blutac at base. Connects over tonehole 6
Just by playing around, I was planning to feed some venting into end, but no need.
So there is some trial and error needed there to find out how it works, minimum parameters possible etc., and though maybe other designers have bore solutions (I don't know), for new amateur builds I think a reduced design could be carved into the body of the cylinder leaving tonehole 6 as normal. Tonehole 5 open is weak with the mod attached, but clearly the mod when finished would have its own tonehole (or feed from side of 6) , leaving 6 open and working as normal, and so 5 also.
The unusual thing is that just reducing tonehole 6 at surface does not work, so there is some kind of "smooth change of impedance" added by having a tube there.
For those with confidence it would mean hacking an existing flute (but don't until others have trialed it to get best design). For those with an instrument not to be adjusted it could be a retrofit where tonehole 6 is raised by a platform that feeds the vent... not that I think many would want to do that.
So, for anyone with a Rudallish flute and finding base notes just too much, maybe try the bluetack and plastic pipe shown and just see if it works on your flute, and how that sounds. I will probably carve this in on my flute, so will write up on that if I do.
What will be good is for someone to figure out exactly why it works... maybe someone will come up with a much more compact way of doing the same... I haven't played with the design yet so that is what I will try to figure.
Finally, a thank you to Tonehole for inspiring me to find a solution to tuning on a short foot
.
I'm mostly offline at the moment and just posting this then back offline, so if I don't reply to anyone for a while that is why