Offering up a Michael Copeland flute in D made from boxwood that has been stained. Rings are brass. This comes from his Boston period back sometime in the 1980s and is marked with "Mekal" as he did at the time. No cracks, repairs or major dings and only a couple of very tiny, hard to locate scratches—surprisingly good shape for an instrument of this maturity. Note that there's no tuning slide, it tunes (for me) at A=440 with the head out about 1/8". Holes 3 and 6 are cut on a slant for tuning purposes and to shorten the spacing. I replaced the head cork and steamed the tenon cork to "fluff it up" a bit and make the joints tighter.
Plays very nicely. Not a session blaster, but a nice sweet, "round" sound with moderate volume. Good for playing in a small group or by oneself as a nice parlor instrument.
Kept in a smoke-free home. The case shown in the photo is NOT included.
Selling because I have accumulated a number of flutes out of curiosity and now just have too many.
$475 includes shipping within the continental US. Prefer not to ship outside the US due to hassles due to the pandemic.
Click on the thumbnails below for enlarged photos.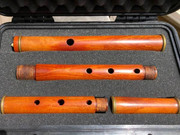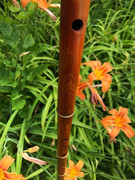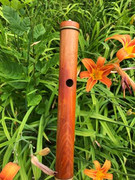 Thanks for looking. Contact me via either PM or email buttons below.
Best wishes.
Steve