Nanohedron wrote:
Terry McGee wrote:
Could you believe it - this cable was down in a "pit" - a hole in the ground with a concrete cover, and it burned!
Crazy.
I've seen film footage, but I had no real grasp of the scope of things until seeing a map of Australia with the hotspots marked out (this one gotten from Newsweek today, so I assume it's reasonably current):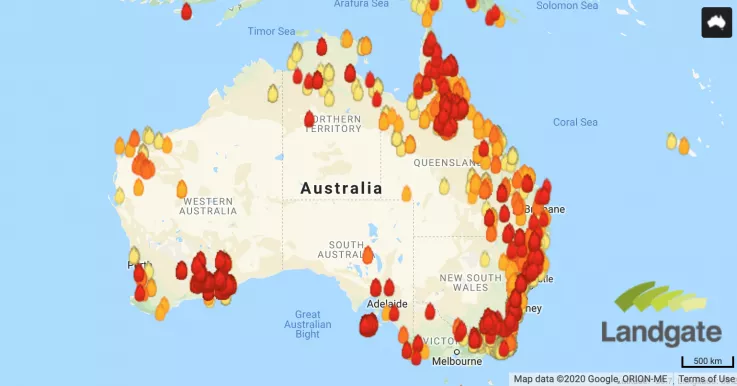 That's beyond words.
Yes-s-s … not wishing to belittle anything, but maps like that one, which I think is from MyFireWatch, have been criticised for giving a misleading impression, when read out of context, of both the incidence and spread of the fires. The symbols give no indication of the size and spread of the fires, they reportedly contain data over a period of time, as opposed to a snapshot, and many of the original flags, even some of the red ones, were warning flags, not necessarily actual fires. Apparently, though I don't understand how this can be, quite a few of the flags on such maps are not fires - or even fire risks - at all, but simply areas which are hotter than their surroundings.
Now, I'm not there, have never been there, and am acutely aware of the trauma which must have been suffered by the people affected. Still, it does strike me that we should look at the real picture - which is bad enough. For instance, many newspaper reports said that half a billion animals had been killed by the fires. It actually turns out that this is based on an academic estimate that 480,000 mammals, birds and reptiles will, eventually, be affected by these fires (i.e. not necessarily killed).
I can see me getting flak for this, but it really isn't for lack of empathy. I simply think that, to deal with an issue, it's as well to know the facts of the issue rather than hyperbole.
In the worst hit area, New South Wales, it's reported that fires have affected almost five million hectares - that's about a fifth of the size of the UK. I can get to grips with that. It's bad. In total, the area so far burned by the fires is about 10.7m hectares, or about 1.4% of Australia's land mass. What I don't seem to be able to find out is how relatively populous the affected regions are (though of course there are other considerations).