Modes of vibration. A flute is a tube open at both ends, which means that you can't have pressure changes at either end as they are open to atmosphere. So it can in theory resonate at any wavelength which crosses the horizontal axis at both ends. This image from UNSW Physics Flute Acoustics may confuse you further.....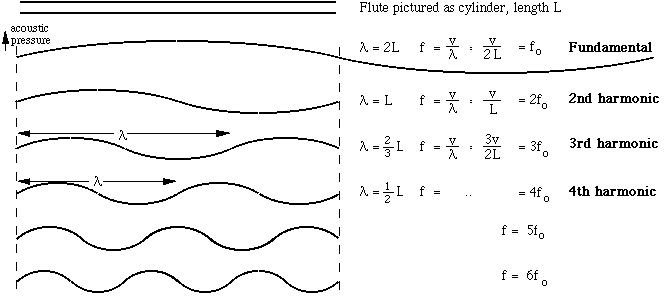 Fortunately, you are not dependent upon theory and diagrams. Take up thy flute, finger xxx xxx and blow softly. You'll get low D, mode 1
Now tighten the embouchure and blow again. You'll get middle D, mode 2.
Tighten some more and blow again. Mode 3, 2nd octave A
Tighten more and try again. Mode 4, 3rd octave D.
Mode 5, if you are that good, will be 3rd octave F#
And so it goes on, in theory forever, but practically limited by the cut-off frequency, a factor of bore and fingerhole diameters, above which the flute becomes very uncooperative. You might have achieved 5 modes on xxx xxx, but try other fingerings. Heh heh heh.....