Here's another pic of this kind of instrument (the only other one I could find on the Net), from eBay: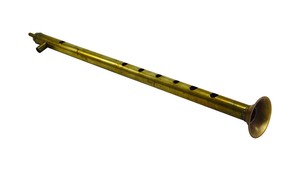 As I suspected, it's Indian, and as I also suspected, its bell is meant to recall the shenai, an oboe-like woodwind - which, I might add, is not played in such transverse fashion. You just don't know which end is up with this baby. To my surprise, in the comments at the bottom of the page the seller seemed relatively well-informed re: the difference between fippled and embouchure-holed winds, although the metal is (erroneously, I would say, if one is to go by the picture) called aluminum. Unfortunately for Emmerzael, that sale is over.
https://www.ebay.com/itm/Functional-Ind ... 2454087490
The good news, I suppose, is that at least you know which country you might direct further inquiries to.
I would also suggest that you might have a better chance in directing further inquiries to the Whistle Forum, although TBH I think this particular item would be a first, and no one there would be any the wiser, either. But who knows? In any case, here at C&F we differentiate terminologically between flutes and whistles, and your instrument, while technically a fipple
flute
, is in the end what we would call a whistle, chimaera that it is.
Thanks to this inquiry I have learned that the Indian term "bansuri" includes their fippled instruments, which Wikipedia confirms. I never would have guessed.
_________________
"Time is the wisest counselor of all." -
Pericles
"I remain not entirely convinced of it." -
Nano