So far the only reamers that I've made that
don't
warp have four cutting blades (attached thumbnail). A two-bladed reamer should be okay as well, because you are removing equal amounts of material from each side of the steel taper. Any D-profile reamer or variations on them are going to warp. There may be ways to harden the steel after you make the reamer, perhaps holding it under tension to keep it straight during the process (which I believe involves dipping the steel in some type of powder and then heating it to red hot, cooling it in a particular way, etc.). But this is going to have a big cost/pain-in-the-neck factor, even if you can find someone who offers the service.
My experience so far is that a warped reamer doesn't matter--it still cuts straight
if
you put a pilot on the end of the reamer (a short cylindrical section of the reamer that tracks on the pilot hole that you have drilled in the wood) the reamer will still cut straight. This may not be true in case of a really extreme warp, but I'd have to see what degree you are talking about.
Steel is like wood in terms of having the equivalent of grain-tension that gets released when you cut it. There are probably hardened steels that won't do this, but you don't want to try to make a reamer out of something like that! I tried making one from stainless steel one time, just for kicks, and it was a fiasco. Just too hard to machine.
This reamer below does not have a pilot on it because it is a four-bladed version and is perfectly straight.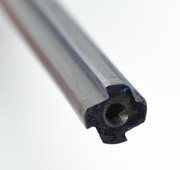 William Bryant wrote:
[Thread revival. - Mod]
Forgive me for resurrecting this thread, but I wanted to post where I found the reamer pics. (I just joined the forum.)
I am a nascent baroque flute maker who finds himself stuck at making reamers because the final result always warps. Here's what I've done so far.
1. Obtain a lathe and mill.
2. Make a taper attachment for the lathe.
3. Measure the inside bore of a flute I want to copy using a telescoping gauge, micrometer, etc. and plot the graph.
4. Set the taper attachment using simple math derived from my graph.
5. Obtain steel rods: O-1, Stressproof, unlabeled.
6. Turn tapers in the steel rods.
7. Test the tapered rods by sliding them into the bore of the flute I want to copy. (Perfect)
8. Mill out a slot in the tapered rod.
Warped! The reamer always "bananas" away from the slot.
Does anybody know how to make a reamer that doesn't warp?
(Pics of my process as soon as I figure out how to post them here.)