Loren wrote:
Ok, pretty straight forward question: What is the youngest age child you'd consider giving a whistle? I'm thinking mainly from a child safety perspective, rather than the parents' sanity perspective
I don't have any kids (that I know of
) so this question had never occurred to me until I thought about gifting A whistle to a friend's child today.
I would say 5, but, each child develops in their own way and at their own pace. Exposure counts immensely. I remember a friend/faculty member who was originally from Caracus, Venezuela that mentioned El Systema for learning music. After extensive searching archives & waybackmachine too I cannot find the PBS original video I watched in early 2000s about El Systema. I do remember the video stated that kids 2-3 yrs old were provided miniature instruments that they could hold on to and by 4 yrs could play a piece of music. Exposure and experience of being surrounded by other children with musical instruments was a big motivating factor. Then kids went on to play in a children's orchestra and continued on with childhood development.
I'm not an educator in school system, yet, I now teach a dozen kids ages 4 to 12 (privately Trad at Gaelic-American Club) although I'm still newbie-ish (advanced beginner) whistler myself. Kids get the recorder here locally in the 3rd grade along with beginnings to formal music education in school. I don't compete with the schools ever. A few parents wanted their children to get Trad music as well so that's how I got involved. I have been teaching kids four years now (since early 2015) the basics.
Yes, safety is an utmost important aspect for my method. Some simple things that have worked for me when with the kids:
I introduce youngest kids to a Clarke Sweetone whistle, often gifted, unless they already have a whistle. I also advise obtain or gift a whistle case that protects their whistle, that properly caring for their whistle is very important. No biting the fipple ever, whistle rests on lower lip and not in the mouth or on teeth. No drumming or poking of any kind is tolerated. I want the kids holding on to the whistle even when listening so no whistle rolls off the table on to the floor... and when it happens we say in unison... "a whistle on the floor is a whistle no more." I know many of the learning methods recommended, by ear, listening, staff notation, etc., but what works for me is using the fingering diagram to get the youngest kids started with scale, a few nursery rhymes (that I had to relearn on whistle) and then on to the trad tunes broken down into notes, phrases, parts, whole. I enjoy the kids and the kids enjoy coming to whistle instruction. Parents juggling all school activities, local events/sports, lessons, and family time (multiple children) is quite an undertaking. School work always comes first, lessons, and fun later on. There is no requirement/pressure to attend whistle lessons with me... come as often or as little as desired and time/interest permits. Monday nights are my instruction nights giving and receiving. Whistle instruction books are varied while I prefer the books that include the fingering tabs along with staff notation, however, I've utilized parts of various tutorial books to cover as much as possible. And recently YouTube channel by CutiePie was introduced to the kids for whistle music beyond Trad, kids movies, TV shows, games, etc. that I personally don't prefer nor know. The C&F instruction link here above whistle forum has many good suggestions for all levels of learning. The best experience for me now is watching the older kids teaching the younger beginner kids.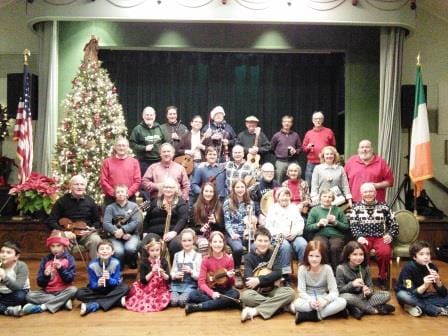 Group photo is Dec. 2016. Current year gallery 2019 scroll
http://shamrockirishmusic.org/gallery-2019.html
and new 2019 group photo to be done next month.
And as for the "parents' sanity perspective" that's a private household matter that I'm not involved with.

Give the child a whistle.