I just picked up a few of these ArtBin Pencil Cases (available at Michaels.com & Joann.com and their craft stores).
Each can fit 3 high D whistles (3 compartments) easily, or up to 10 (stacked) if you don't mind contact by placing 2-4 in each section. Too short for a C, unless you have a separate body.
I even fit a Copley Delrin flute in one. I tried a Casey Burns Folk Flute, but while it latches securely, the flare on his headjoint holds the case top up a bit, so would probably not keep humidity.
$10.50 each at Michaels, $9.99 at Joann's. Joann's has an online sale right now at 30% off, which Michael's was willing to match (I picked them up at the store).
Clear box.
https://www.michaels.com/artbin-pencil- ... 34500.html
Michael's has a sale today (Oct. 10, 2019) at 20% off purchase.
Tinted box.
https://www.joann.com/artbin-pencil-uti ... 84895.html
30% off this item ($6.99). There's also a 20% off entire purchase sale on right now, but I don't know if you can stack the 2 deals.
Anyway, I just need these to organize things at home. You might not want to use them for travel to sessions (no real handle, just an end tab, store hanger) without adding a foam liner and/or placing into an outer carrying case.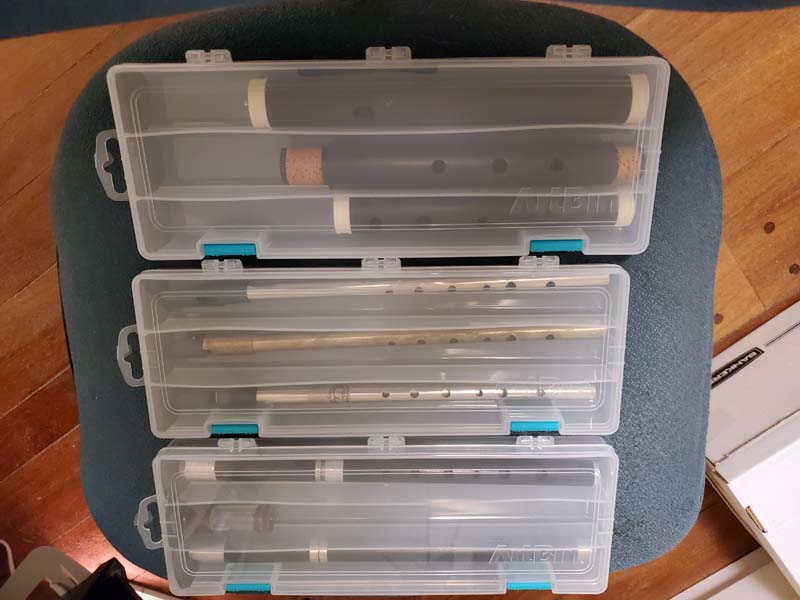 _________________
International Traditional Music Society, Inc.
A non-profit 501c3 charity/educational public benefit corporation
Wooden Flute Obsession CDs (3 volumes, 6 discs, 7 hours, 120 players/tracks)
http://www.worldtrad.org