benhall.1 wrote:
It's a funny thing, but I can't make my brain understand tab at all. I can sight-read from sheet music or from ABC notation, but tab? Not a hope. I don't even seem to be able to work it out at all. It's probably just the way I'm wired ...
Some people have an ear some folk don't and I certainly don't. Here is an example of how the ABC software allows the printable fingering tab to show.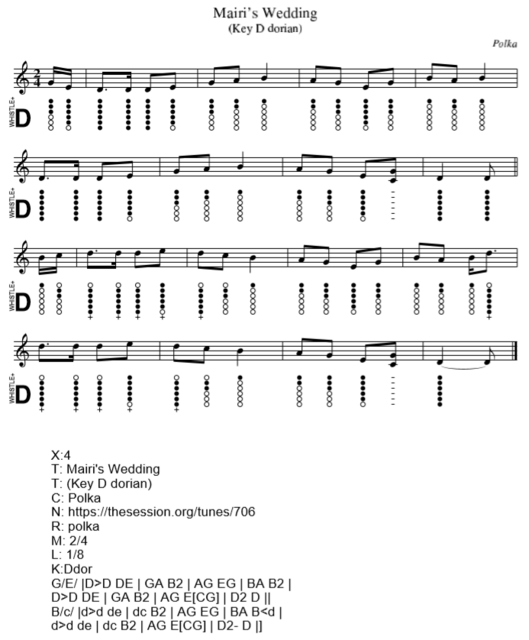 The fingering tab merely shows which hole(s) are to be covered. Half-holing is a bit tricky. I can look at the particular finger tab and look up to the staff notation for the relation which is how I re-learned to read staff notation while the letter note is shown in the ABC. The blank fingering sheet above is for transcribing from audio onto the paper the note(s) which takes a bit of effort as one would work it out with help from a slow downer app while trying to match sound on the whistle note for note. I hope that's a good example.
When I first began following the Chiff I was soaking up every tidbit of help in playing whistle, reading staff notation, and learning tunes. One of my earliest and most helpful experiences occurred when MTGuru transcribed a tune called 'Leaving Stage Harbor'. At first, MTGuru did a quick simple transcription and then followed later with a more complex ABC transcription. I visually learned quite a bit about ABCs from that one thread.
viewtopic.php?p=1085651#p1085651
Another tune MTGuru transcribed into ABC and one of my all-time favorites is Erin's Shore. I can't find it now searching Chiff.
I love these two tunes MTGuru transcribed, others as well.